Wilson Sporting Goods Co., a leading sports equipment manufacturer in the US, has revealed an experimental prototype of an airless basketball, believed to be the first of its kind in the industry to be 3D printed. Wilson collaborated with General Lattice, a Chicago-based 3D design company, EOS, a 3D printer manufacturer, and DyeMansion, a post-processing company, to create the ball. The prototype aims to show that a basketball can be produced without requiring inflation and demonstrate the potential of additive manufacturing techniques in the sporting goods sector. KJ Martin of the Houston Rockets showed the prototype's playability during the first round of the AT&T Slam Dunk contest at a recent NBA All-Star game.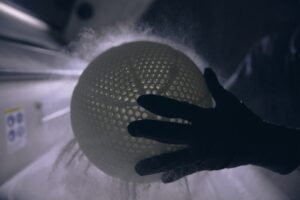 The GL Labs team at General Lattice worked closely with Wilson to develop the prototype using its computational design tools and workflows, streamlining the design and iteration process. The ball was printed using an EOS P 396 SLS 3D printer. DyeMansion added finishing touches, such as DeepDye Coloring and VaporFuse Surfacing, to create the ball's outer skin and a smooth finished surface. The ball's structure consists of a see-through black lattice with eight panel-like lobes.
The Wilson airless basketball is part of a trend of additive manufacturing in the sports industry. In 2021, Adidas partnered with Carbon to produce the 3D printed 4D midsole, the 4DFWD, using digital light synthesis (DLS) 3D printing technology. Later that year, Adidas and the Marcolin Group collaborated to produce the 3D CMPT, 3D printed sports glasses weighing only 20g, with a retail price of $415 during their limited release run from August 2021.
SNL Creative is proudly offering EOS SLS 3d printing for applications and materials requiring such rigorous used cases.